Paying for your burial or cremation
With the costs of funerals continuing to rise, you may be considering how you can help pay for your funeral in advance to save your loved ones unnecessary worry at what will already be a stressful time. With this in mind, we've worked out the average cost of cremation and burials so you can save precious time and understand the potential cost at a glance.
The average cost of cremation
Crematorium fees were an average cost of £873 in 2022, with the UK average cost for a cremation, including Funeral Director's fees, coming in at £3,940. Cremations could cost less in normal hours on a workday, while evening and weekend cremations are likely to cost more. Cremation prices can vary regionally, too.
Low cost cremation
Some organisations offer what is called direct cremation. This eliminates much of the Funeral Director's role and any memorial service. The body is simply collected from the mortuary and cremated at the quietest time for the crematorium, with no preparation. Including the cost of doctor's certification, collection of ashes and other costs, the price of direct cremation in the UK is likely to be approximately £1,400 in total. You can also save a lot of money by dispensing with the services of a Funeral Director, and making all the arrangements yourself.
Burial costs
UK burial prices are generally more expensive than cremation, with the main cost, in addition to the Funeral Director and the service, being the plot. This is actually made up of two costs – the fee for digging the grave and the Exclusive Right of Burial, which is payable to the owner of the cemetery. There may also be additional fees if the departed is not a resident of the local borough.
How much cheaper is cremation than burial?
The UK average cost for a burial, including Funeral Director's fees, is £5,241 (compared to £3,940 for cremations), though the costs can vary widely – for example, at the top end, fees for a burial in some London cemeteries will be well into five figures.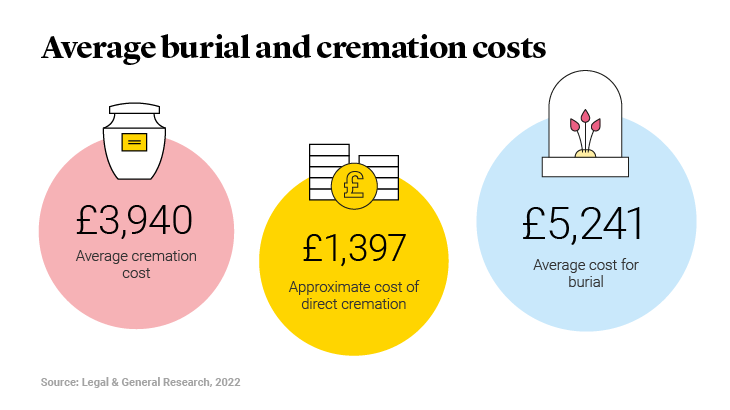 Low cost burial
You can reduce the costs by choosing a wicker or cardboard coffin rather than a traditional one. You might also look into natural burial grounds, which can be a lot cheaper than a cemetery
Paying for your funeral
If you don't have, or want to use money from your estate to pay for your funeral, you could consider alternatives such as funeral plans. Or you may wish to consider specialist insurance products like over 50 life insurance, which could pay out a cash sum on your death that loved ones could use to help contribute towards your funeral costs, unpaid bills or even to enjoy as a small gift when you're gone. Funeral and burial expenses don't always come cheap, but by preparing for these costs over the course of many years, you can ensure your loved ones are able to focus on what really matters on a difficult day.
Find out more about Over 50 Life Insurance.
Sources
Legal & General Research, 2022.