Helping a loved one onto the housing ladder is something most of us wish we could do. But for many young people today, buying a property can seem just out of reach, forcing them into renting or living at home well into their 30s.
There's no doubt the UK property market has changed over the last four decades. House prices are higher now than for the 'baby boomer' generation.
It's no wonder more than half of under 35's received a gift from the Bank of Mum and Dad to help them onto the property ladder in 2020. Many parents and grandparents have fond memories of their first property, and that's something that can now be shared across the generational divide.
How a lifetime mortgage can help
A lifetime mortgage lets families share the benefits of home ownership. It's ideal for those who don't have the money to give away for a deposit but do own their home. It lets you access money without having to downsize or move. And you can use the money you release from the value of your home to enjoy a more comfortable retirement or help your family.
A lifetime mortgage is a type of equity release. It's a great way to unlock tax-free cash from your home by securing a loan against it. And with a no negative equity guarantee, you'll never repay more than the value of your home when it's sold. It can also help with inheritance and tax planning.
If you gift the money, the recipient may need to pay inheritance tax in the future though and it may reduce their inheritance after you die.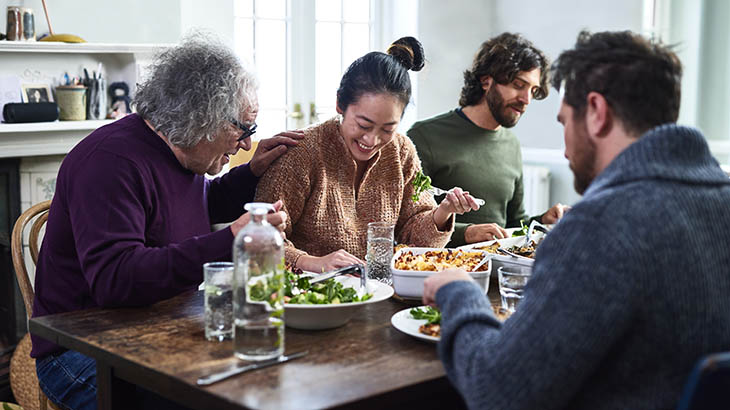 To qualify for a lifetime mortgage, you'll need to:
Be aged 55 or over
Own (or be buying) your own home, with little or no mortgage left to pay
Be buying (or own) a home worth at least £70,000 or £100,000, depending on your property type
A lifetime mortgage can help you gift your loved ones a 'living inheritance', rather than leaving a lump sum after you die. Handing it down while you're still around has obvious benefits. You can see them move into their new home or help them with the cost of a wedding.
You'll only ever be able to take out a lifetime mortgage through a qualified financial adviser. They will make sure you understand the product and will tell you whether it's the right option for you, as there may be cheaper ways for you to borrow money.
The amount you can release is based on the value of your home, and there are no monthly repayments. This makes it ideal for those who aren't working later in life and find it hard to qualify for a standard mortgage. It may affect your entitlement to means tested benefits, which is something you'll want to think about.
How our Lifetime Mortgage helped Evadne and her son
Our customer Evadne used our Lifetime Mortgage to help fulfil both her and her son's ambitions. She was able to help him buy his first property, decorate her living room, and plan a trip to America.
She told us "The Lifetime Mortgage has ensured my son now feels secure. That is worth more than any money in the world. It makes me feel successful as a mum. I feel safer and more content, happier because he is happier!"
You can find out more about Evadne's journey and how she, and many others, were able to support their family using our Lifetime Mortgage.
Other ways of helping your loved ones
A lifetime mortgage might not be right for everyone. There are other ways you could help your loved ones onto the property ladder:
Become a guarantor
Becoming a guarantor is a simple way to help your loved ones buy their first home. You'll be the financial back-up if your loved one can't make their mortgage repayments.
During this period, they will remain the legal owner of the property. But their loan will be secured against your home.
Gift or loan money from your savings
Using your savings to gift or loan money to your loved ones is one of the most popular choices to help them onto the housing ladder. But using cash or savings in this way could have significant tax implications. If you want to learn more, you can read our page on inheritance tax.
Take out a family mortgage
With a family mortgage, you put money into a savings account that's linked to the mortgage. That money acts as a deposit and an extra guarantee for the lender. After a fixed period, if your loved one keeps up with their repayments, money will return to the gifters' account. Although we don't offer family mortgages, they can be an option for those looking to use their savings to help their loved ones.
What's next?
If you want to find out how much cash you could release from your home, you can use our easy to use equity release calculator. And our equity release advisers are ready to answer any questions you might have about later life mortgages that could help your loved ones onto the property ladder.